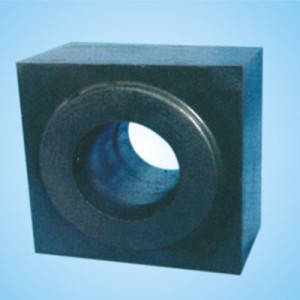 Selected from high-quality raw materials with rigorous production process. Honsin Group Tundish well block can be used with multiples kinds of Tundish nozzles.
Our Tundish well block shows excellent strength, high thermal shock stability and erosion resistance.
Our engineers can help users to make rational combination of the slag dam, impact plate and nozzle well block based on the Tundish smelting conditions.
Typical product characteristics tables :
Item

Al2O3%

MgO %

C %

Apparent porosity  g/cm3

Bulk density  g/cm3

Crushing strength

Regulation diameter nozzle with block
HZ-1

≥75

15

9

≥2.6

≤24

≥50

HZ-2

≥65

≥10

≥2

≥2.7

≤22

≥60

Quick change  nozzle using block
SZ-1

≥70

≥12

≥2

≥2.7

≤20

≥50

SZ-2

≥70

/

≥6

≥2.7

≤19

≥60

Long nozzle block
LZ

≥80

/

/

≥2.7

≤22

≥60